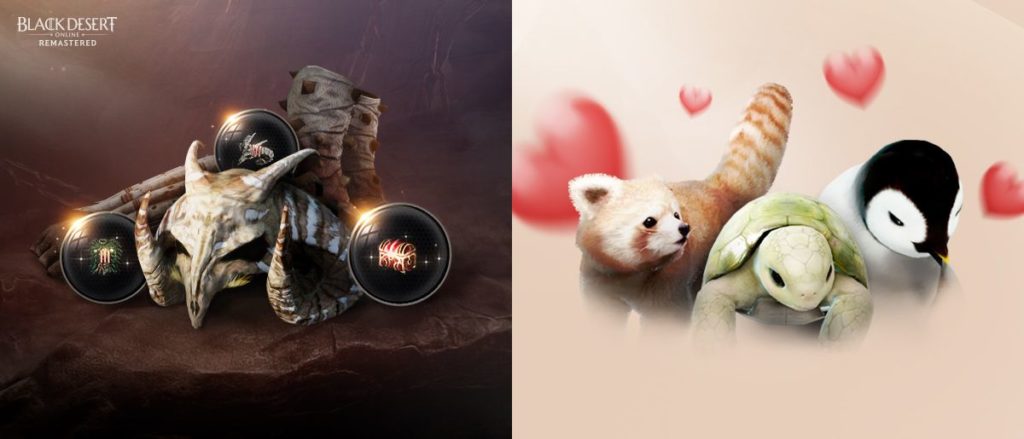 Players can help raise money for various wildlife projects by participating in in-game events. To help adventurers kickstart their adventures in the end-game, all players can now start collecting a set of powerful weapons and armor. New anniversary trailer released in collaboration with Carbot Animation.
Amsterdam, The Netherlands — March 18, 2020 — Kakao Games and Pearl Abyss announced the start of the second part of Black Desert Online's fourth anniversary celebrations. This week sees the start of a special charity drive for wildlife conservation and additionally, players can now start amassing powerful items during a new event.
As the month of its fourth anniversary continues, Kakao Games released a special video in collaboration with Carbot Animation. Combining the world of Black Desert Online with the unique style of Carbot Animation, it can be watched on the official Black Desert Online YouTube channel.
The 'Save the Wildlife' charity event sees players taking part in an in-game event in which their contribution will help build towards a sizeable donation to the World Wide Fund for Nature. More information can be found on a special website that was created for this event.
This week also sees the start of the highly anticipated 'Suppressed Boss Gear' event. This event rewards players with powerful weapons and armor, perfect for players that want to jump right into high-end activities on offer in the hit-MMORPG. To receive the powerful weapons, players will just have to reach certain level milestones.
From level 56 to 58, each level will see the player being rewarded with a strong weapon for their character. For the armor pieces, players will have to complete a series of challenges, such as slaying monsters or defeating summoned bosses.
Players interested in Black Desert Online can sign up for the 7-day free trial via the Black Desert Online official website, where they can also learn more about game updates and events.
About Black Desert Online
Black Desert Online is an open world action MMORPG with cutting-edge visuals and skill-based combat that redefines the genre. Black Desert Online has the most fully developed character customization system of any game that is currently on the market. This feature allows users to break free of the mundane and make unique characters that are truly representative of each and every player. Its intuitive controls, beautifully designed worlds, and extensive lore are enough to excite both new and veteran gamers of MMORPGs and RPGs. The game has been successfully launched in over 150 countries, is available in 12 languages, and has over 20 million registered users. The mobile and console versions are scheduled to launch globally in 2019.