Reclaim Humanity's Fate in the Chthonic Card Based Tactical RPG, Against The Moon, Out Now!
Russia, September 24th, 2020 – "Some thingsnever truly end, which means the end of the campaign is not the end of the story in Against The Moon. Right now, the dev team is working on massive updates and additional content. New heroes will join the Ultori to defend humanity against all new creatures from ancient past. New locations and all new campaigns are coming, new maps as well as seasonal events that will offer players new strategic challenges. Players can look forward to new content well into 2021."
– Artem Korovkin, Black Tower Entertainment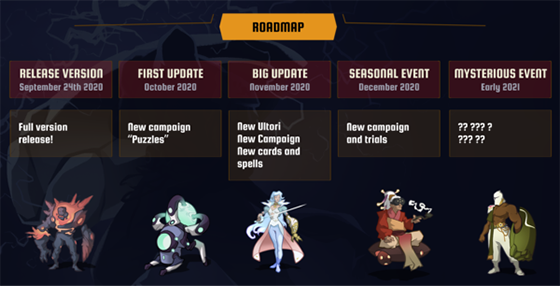 Having lost control of the planet to weird beasts of their own creation, humanity's last survivors took refuge in an ancient citadel. Now the superhuman Ultori represents mankind's last hope. Lead a squad of powerful Ultori to defeat the Furos, the nightmare creatures of the Moon, and restore humanity as the rightful rulers of Earth.
Craft your own deck, upgrade your cards, and level up your characters to combat bizarre and dangerous opponents. Crush enemy bosses, build your forces, and gather the resources you need to challenge the Moon itself! Against The Moon is a turn-based strategy where chthonic monsters will challenge your tactical skills.
Lead a squad of superhumans in a desperate attempt to save humanity's last stronghold, the intelligent city of Arx.
Game Features
Unique deck building system. – Against the Moon offers a new approach to deckbuilding: each card can evolve along two different paths, allowing you to adapt to your opponents' strategy. Keep an eye on your energy levels, and remember: the enemy is watching your every step.
Fill your arsenal with living weapons! – Each Ultori has unique abilities, weapons, and most importantly, their own units to lead into battle. Think strategically, outsmart your enemies with cunning traps, and finish them once and for all with your team's ultimates.
Immerse yourself in a unique post-apocalyptic world – With dozens of atmospheric illustrations, and intense, vividly animated combat.
While Against the Moon offers easy to learn game mechanics to entertain casual players, hardcore genre fans will also be challenged by special missions with unique rewards!
Uncover a lore-rich world of mystery and wonder. – Enter a world where humanity has been left behind and explore the mysteries of the godlike Ancients. Uncover the origins of the strange and vicious beasts called Furos, and challenge the tyrant behind the invasion of Earth. Bring back the former glory of Arx, the last bastion of mankind.
Every playthrough is a new adventure!- The world of the future does not forgive mistakes. Beyond the walls of Arx, every decision could be your last. Combine mighty artifacts with a careful strategy and conquer the brutal wastelands.
Release Info
Against the Moon is Out Now on PC (Steam/GOG). Stay tuned for more upcoming news on a console launch, Q1 2021.