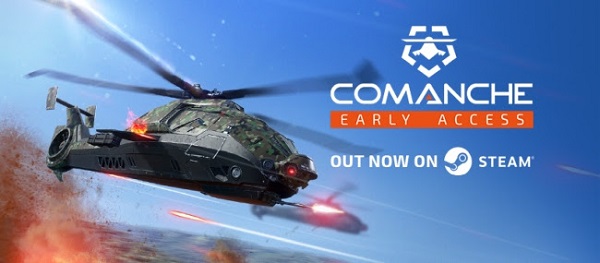 Hannover, Germany / Vienna, Austria, March 12th, 2020 – Engines: ready! Weapons: ready! Companion Drone: ready! Pilots: are you ready? Comanche lifts-off today for a routine Early Access Launch on Steam. Mission goals are: generate fun among players. Gather feedback. Return to base and update strategy according to the feedback & upgrade the game regularly.
What's in the Early Access Version now?
At the start of the Early Access Phase Comanche will offer 3 different game modes:
Singleplayer
As requested by the community, Comanche will get a singleplayer campaign. Starting with one mission that is available from March 12th on, developer Nukklear will add new missions on a regular basis.
Multiplayer
The 4vs4 team-based multiplayer will start with two modes, one called Black Box, the other Infiltration. In Black Box, the goal is to collect more black boxes from destroyed Comanches with your drone – as you can collect enemy black boxes as well as friendly ones and you need to use the drone, this mode guarantees intense team fights at close range. Infiltration combines again helicopter combat and drone, your objective is to either defend or infiltrate a base where the attackers have to place an EMP, which the defenders will have to disarm.
Flight & Combat Training
In a variety of different missions, you can learn how to fly your Comanche and its drone and familiarize yourself with the flight controls and how to maneuver in combat. As Comanche requires some learning before you become a good pilot, we highly recommend to check out the training mission.
Available Helicopters & Drones
Five Comanches and four drones will be available at the Early Access Launch, all coming with their specific weapons, abilities and strengths and weaknesses. Each type of Comanche has a certain role to fulfill in the team-based combats and is suitable for a special type of player, so choose your favorite.
What to expect in the next months?
The developer has defined a roadmap for the next months of Early Access but we really want to emphasize, that the community will have a voice in the development process. Here is the roadmap:
About Comanche
Comanche is a modern helicopter shooter sim set in the near future. You have the choice to either delve into the evolving single player, and make a difference in a conflict of global proportions or compete with other Comanche players from all around the world in the explosive team-based multiplayer modes. Choose from an array of Comanche and drone configurations, and utilize their strengths to your tactical advantage. Experience a new era of thrilling dog-fights and stealthy drone close quarters action.
Features
Two in one: Control the classic Comanche itself or the technically advanced versions of this legendary helicopter in heated dogfights, and step into its accompanying drone for close-quarter combat.
Infiltration: Objective-based, asymmetrical multiplayer. Every mission has its own goal – play as a team, to achieve victory – either on the attacking or the defending side.
Blackbox: Team Deathmatch with kill confirmation. Fast paced multiplayer action. Coordinate with your team and find the fastest way to achieve the most takedowns.
Many strategic opportunities: Pick one of many Comanche/Drone combinations armed with varied weapons and unique gadgets that compliments your playing style.
You wanted it, we listened: Evolving singleplayer
Shape the game: pick up Comanche in Early Access and participate in the development with your feedback and input!
Constant content updates: To expand, modify and improve the game. THQ Nordic and Nukklear will continuously provide new exciting content for Comanche