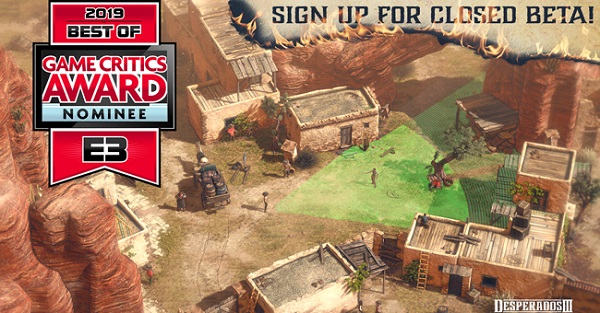 Vienna, Austria/ Munich, Germany, July 3rd, 2019: A nasty bug. And you. High noon, in front of the Saloon … the clock strikes 12 … *bang* and he's sent to meet his maker! You are exactly the gunman, Mimimi Games is looking for – we need fans and interested players to participate in the closed beta test for Desperados III.
Desperados III, the upcoming real-time tactics game, was recently nominated as Best Strategy Game of E3 for the official Game Critics Awards. Although Desperados III is really breathtaking, it didn't had a fair chance to win, as one of the competitors was the one and only John Wick. And everyone knows you shouldn't mess with John Wick.
Details about the closed beta
The Closed Beta will start on Tuesday, July 9th and will end on Sunday, July 21st. Out of all applications Mimimi and THQNordic will select 500 participants which will get the chance to play the game, which is entering the final stages of production.
Players can sign up for the Desperados III Closed Beta here: https://forms.gle/329bY5wwQmrvvLLu5
"This is not the a "pre order now to play the game before anyone – but we don't really need you feedback because release is in just two weeks"-closed beta, people might be used to nowadays. We really want to invite the community to play the game while it's still under construction and share their thoughts and wishes with us. And we want to have the time to react to the players' input and to optimize the game together." says Dennis Huszak, Narrative Director at Mimimi Games.
Desperados III will ride into the sunset on your PC, your PlayStation®4 computer entertainment system, and your Xbox® One in 2019.
For more information on the game, please visit:
The Official Desperados III Website
About Desperados III
Desperados III is a modern real-time tactics game set in a harsh Wild West scenario. You take control of a ragtag band becoming a highly functional group of unlikely heroes and heroines. The very different strong personalities struggle to cooperate at first, but ultimately join forces to combine their distinctive specialties and challenge a seemingly superior foe. Hunted by ruthless bandits and corrupt lawmen, the Desperados need to turn the tables with every mission.
Features
Command up to five Desperados and use their lethal skills to stealthily thin out the enemy rows
Approach each mission with a big variety of different solutions and paths
Resolve seemingly impossible large enemy setups with careful planning and perfectly timed executions
Witness the glory of classic Wild West scenarios like frontier towns, desert canyons, Mississippi swamps, sprawling modern cities and many more by day and night
Defeat your foes choosing between deadly and non-lethal options, stealth and blazing guns and further adjust the game to your playstyle with various difficulty settings and special replayability challenges