Next entry in the classic 'castle sim' series revealed with first gameplay

London, United Kingdom – June 11, 2019 — Today Firefly Studios revealed Stronghold: Warlords, the latest historical real-time strategy game in their legendary Stronghold series. Making its way to Windows in 2020, this new entry will allow players to control AI commanders across the battlefield. From the 3rd century BC China through to the coming of the Mongol Empire in 1200 AD, Stronghold: Warlordsallows players to relive famous historical battles and sieges against great khans, imperial warlords, and shogun commanders.
"We're adding a touch of grand strategy to Stronghold," said Simon Bradbury, Lead Designer at Firefly Studios and creator of the Stronghold series. "It's a deceptively simple yet powerful change, perhaps the biggest we've made to the series since the original Stronghold Crusader. Warlords takes core Stronghold and effortlessly layers a new mechanic on top."
As debuted today at the Kinda Funny Games Showcase, Warlords is Firefly's first Stronghold to recreate the castle economies of the Far East. Stronghold: Warlords lets you take command of Mongol hordes, imperial warriors, tribal fighters and samurai clansmen as you lay siege to Japanese castles and fortified Chinese cities. Besiege historical rulers using new gunpowder-fueled siege weapons, classic units and a completely new way to play Stronghold.
For the first time ever Stronghold: Warlords allows you to recruit, upgrade and command AI warlords across the battlefield with their own unique perks and characteristics. Each warlord under your command boosts your control of the battlefield allowing you to fortify borders, forge weapons or team up for a pincer attack! Each campaign mission, skirmish game, and multiplayer battle means a fresh set of warlords to command and new strategic depth.
Scheduled for release on PC in 2020, players can find out more about Stronghold: Warlords by visiting the game's official website: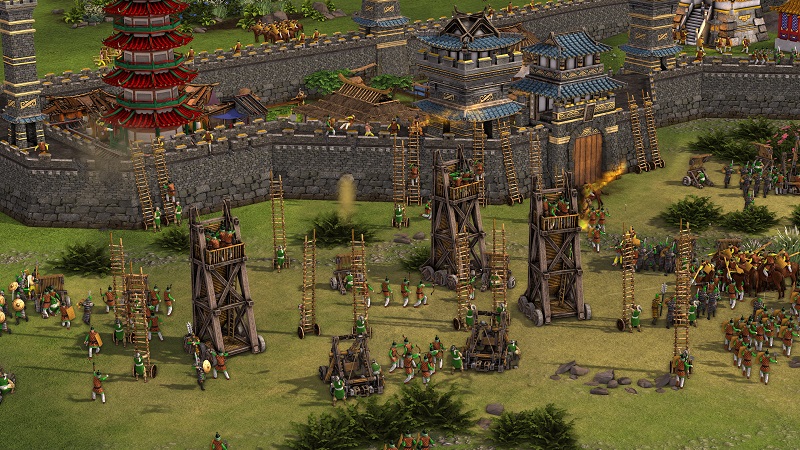 About Stronghold
The original 'castle sim' Stronghold combines the city-builder and real-time strategy genres, allowing you to design, build and siege historical castles. Now almost 20 years old, Stronghold has become a multi-million-selling franchise and household name for strategy and simulation gamers worldwide. A passion for large scale castle sieges, memorable characters, and British humor has earned Stronghold its enduring status in PC gaming as an RTS classic. Alongside six core titles selling seven million copies worldwide, the series has recently expanded to include free-to-play and mobile titles with over six million players of Stronghold Kingdoms, Firefly's most successful entry in the series to date.