New gameplay footage with developer commentary shown during Gamescom gives first look at the Japanese single player campaign that follows Toyotomi Hideyoshi
London, United Kingdom – September 1, 2020 — As shown during the Gamescom Studio show presented by IGN, Firefly Studios has given the world a first look at the Stronghold: Warlords Japanese single player campaign following Toyotomi Hideyoshi. This new developer commentary footage shows details on the new 'Warlord System' and gives a closer look at the Ninja and Warrior Monk units coming to the game when Stronghold: Warlords releases January 26, 2021.
"We're overjoyed to see how the community reacted to our recent delay announcement and I think the footage we showed during Gamescom really displays the level of polish we're shooting for," said Firefly Studios Marketing Director Nick Tannahill. "The digital special edition should really appeal to fans of the series, especially the making-of documentary. There are so many fantastic behind-the-scenes stories to be told and I can't wait for the community to see it"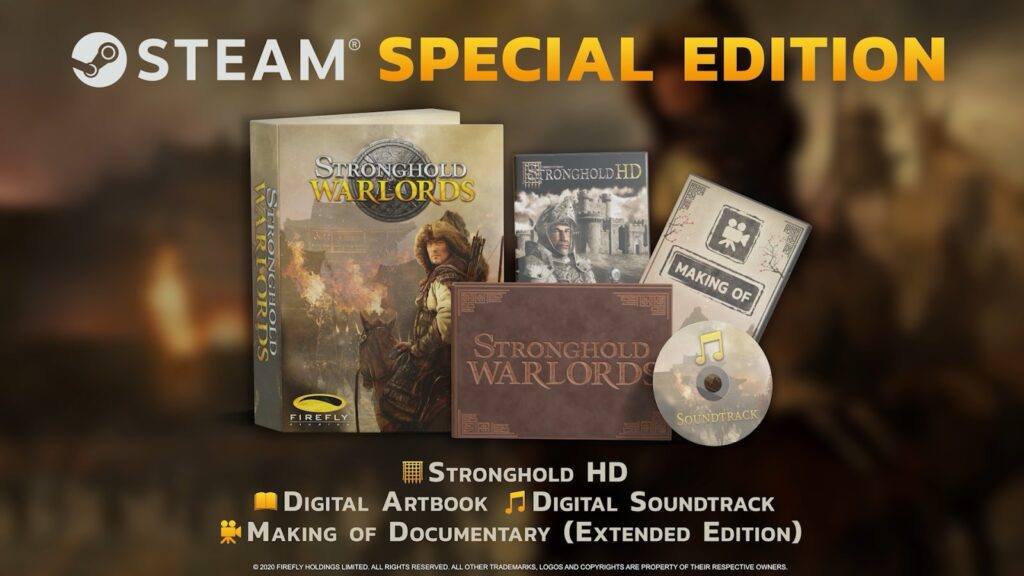 The team also reveals a digital Special Edition for Stronghold: Warlords will be made available for at launch. Priced at $49.99 USD / £39.99 / €44.99, the Stronghold: Warlords Special Edition contains Stronghold: Warlords, the game's soundtrack, a digital artbook, and a feature-length Making of Stronghold: Warlords documentary with developer interviews and behind the scenes footage from the last three years of development. Special Edition owners also receive a copy of Stronghold HD on Steam.
Stronghold: Warlords Digital Special Edition Contents:
Stronghold HD
Full copy of the original game on Steam
Soundtrack
Completely new full soundtrack
Same Stronghold atmosphere and epic battle music, but with a completely new set of instruments and historical inspirations
Created by fan-favourite series composer Robert Euvino, who has scored every Stronghold game to date
Based on Japanese, Chinese, Cambodian, Mongolian and Vietnamese culture
Taking influence from musicians like Yo-Yo Ma and master Shakuhachi players
Cover a wide geographical area and hundreds of years of history
Available in high quality original format
Art Book
Over thirty pages of original Stronghold artwork from the game's artists
Everything from 2D concepts and character models to in-game renders, environmental illustrations and more
Includes key art created by polish artist Mariusz Kozik
Insight into Firefly's artistic process and the way art functions in an RTS
Exclusive game art not available in any other format
Making of Documentary
Feature length runtime of almost 90 minutes
Covering 3 years of development
Mix of behind the scenes footage and interviews with key Firefly staff
Designers, coders, artists, composers, producers and marketers talk about their experience developing, revealing and releasing Stronghold: Warlords
An honest look at modern indie game development at a small studio during a global pandemic
Now scheduled for release January 26th 2021 on Steam, players can find out more about Stronghold: Warlords by visiting the game's official website: www.StrongholdWarlords.com
About Stronghold: Warlords
The latest 'castle sim' RTS from Firefly Studios, Stronghold: Warlords allows you to recruit, upgrade and command AI warlords across the battlefield. Each warlord under your command boosts your strategic prowess with their own unique perks, characteristics and upgradeable abilities. Use them to boost your industry, fortify defences or team up for a pincer attack! Each campaign mission, skirmish game and multiplayer battle means a fresh set of warlords to command and new strategic depth. Stronghold: Warlords is Firefly's first game to recreate the castle economies of the Far East, allowing you to command Mongol hordes, imperial warriors and samurai clansmen as you lay siege to Japanese castles and fortified Chinese cities. Besiege historical warlords using new gunpowder-fuelled siege weapons and a completely new way to play Stronghold.