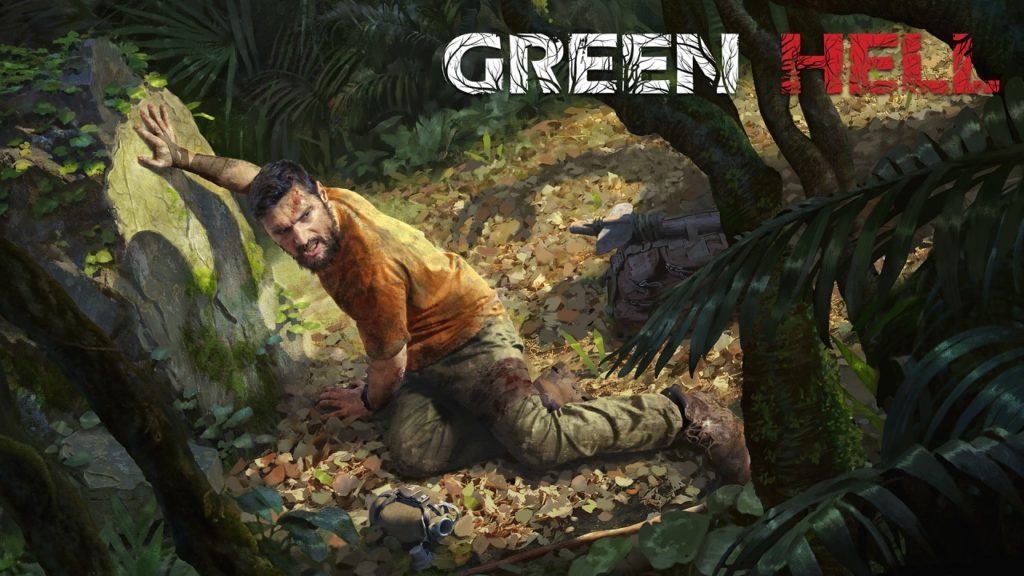 Join Jake on his journey through the deadly Amazon rainforest to rescue his lost love, Mia, in Story Mode
Warsaw, Poland, Sept 5, 2019 — It's been an exciting year since Green Hell launched into Early Access in August 2018 and today independent Polish developer, Creepy Jar, happily announces that their massively successful Amazon-based survival game has officially launched into 1.0.
Available on PC for $24.99 USD, Green Hell saw huge improvements and regular updates during the Early Access phase and now sees a ton of new features accompany this momentous launch. From an entirely new map area to new animals and custom difficulty settings, the 1.0 update is Green Hell's largest yet. Story Mode, one of the most anticipated features of all, will see players test more than just their survival skills as they embark on a desperate mission to navigate the deadly Amazon rainforest and rescue their lost love, Mia.
In the year since Green Hell launched into Early Access, the team at Creepy Jar has worked continuously on improving the game alongside incorporating feedback from their dedicated community. The 1.0 launch is no exception, and you can find a detailed changelog on their Steam page to see a list of all the major additions in this update. See below for the key additions to the 1.0 update;
Story Mode and 1.0 Update Additions
Story Mode! — How did you end up in the Amazon? What happened to your love, Mia? How can you escape? How can you survive? Seeking answers to these questions will take you to the brink of sanity as you rediscover well-known areas and discover new areas for the first time.
New Map Areas — The lush rainforest of Green Hell gets even bigger with new Wetlands to explore. Also included, is an all-new in-game map!
Perma-Death Difficulty — Gear up for the most ruthless challenge yet. There's no coming back from death.
New Graphics Options — Optimize your experience with new FOV, Vsync, antialiasing, texture quality, and shadow distance options.
New Plants and Animals — Introducing the psychosis-inducing Psychotria Viridis, the Banisterposis Caapi, and the lethally poisonous Dart Frog.
Decay Timer— Many items in the game will now start to wither and decay. Players will have to be vigilant learning to use their items before they expire.
New Difficulty Levels (Tourist, King of the Jungle, Custom) — Have a problem with snakes? Maybe spiders? Introducing new difficulty options to turn tribes, predators, spiders, snakes, and the sanity meter on or off! Hate managing macroelements? Green Hell is also adding a depletion speed slider to adjust how quickly you need to replenish yourself.
Green Hell is now available on Steam at a list price of $24.99 USD
Key Features
Realistic Survival Simulator — Green Hell puts great focus on realism in both its world-building and gameplay. Everything that is crafted or built is necessary for survival and was consulted on with experts. The Amazon is not a typical forest; threats are literally crawling under your skin.
Psychological Thriller — You awake in the middle of the night, you hear the distant voice of your wife, Mia through the darkness. Through the radio her pleas for help ring in your ears. Will she be ok? Will you succumb to the dangers of this hostile environment before you can rescue her? The hardest battle you'll face is the fight against yourself, your weaknesses, and your fears in order to find Mia.
A Lushly Recreated Amazon Rainforest — Every effort has gone into recreating the lush world of the Amazon. An exotic and dangerous place, this jungle is filled with many hazards beyond predators including toxic plants, illnesses, and infections all waiting to bring the player to their demise.
Body Inspection — Dangers lurk around every corner, but they also live under your very skin. Paramount to your survival is checking your body for parasites, infections, and wounds. Take care of your body or you will face the consequences.