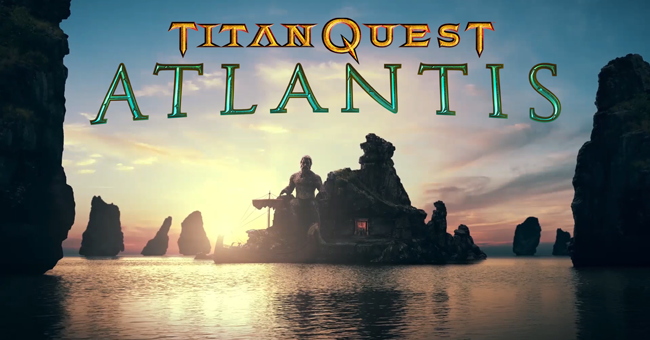 Titan Quest: Atlantis is out now on PlayStation®4 and Xbox One!
Vienna/Austria, March 31st, 2020 – The third expansion of the critically acclaimed Action-RPG Titan Quest is now available on PlayStation®4 and Xbox One. Heroes can dive into a brand new and epic story line and explore new environments in the most mysterious of all cities.
Titan Quest: Atlantis is now available for PlayStation®4 and Xbox One® as well as for PC. The SRP is $19.99 / € 19.99 / £17.99 / RUB 1249.00. Please note: The base game Titan Quest is required to play the expansion.
Main Features:
New Atlantis Main Quest Line
Play a brand new Titan Quest adventure in single-player experience or hunt the mystical hordes of Atlantis with up to 6 players in the co-operative multiplayer mode
Find and claim new items and unique rewards
Tartarus Endless Mode
A wave based challenge mode, playable in single player or with up to 6 players in co-op multiplayer
Random elements change up the gameplay and will make sure every game is different from any other
Expanded Masteries
Unlock a new tier of skills for each mastery
Casino Merchant
Spend your excess in-game money on randomly generated loot
About Titan Quest: Atlantis
The Hero meets an explorer that is searching for the mythical kingdom of Atlantis, and together they set out on a journey across the western Mediterranean. They will search for the legendary Diary of Herakles, rumored to be in the Phoenician City of Gadir, but their journey will take them beyond the edges of the known world…
About Titan Quest
From the co-creator of Age of Empires, Brian Sullivan, comes an action role-playing game set in the mythical worlds of ancient Greece and Egypt. Amazing visuals and fast-action gameplay deliver a true cinematic gaming experience. Lush ancient world settings crafted in near-photo realistic detail provide the player with an extraordinary canvas on which to set forth on an epic quest of the ultimate good versus evil.
The Titans, gods before the gods, have escaped from their eternal prison to wreak havoc on the world. In this titanic struggle between old and new gods it is the heroes of humankind who will ultimately determine the fate of all existence. The player quests throughout the ancient world in a race to uncover the secrets needed to once again imprison these ancient gods. Journeying to fabled locations such as the Parthenon, the maze at Knossos, the Great Pyramids, and the Hanging Gardens of Babylon, the player will have to overcome terrifying monsters and mythical beasts.
A flexible class system allows almost limitless ways for the player to develop their character. Skills can be customized in many ways, and never become obsolete. With addictive, fast action gameplay and tons of unique loot, epic gaming has never been so good.
Brave the trials of Titan Quest alone or bring a group of friends to share the glory while playing through the thrilling story-driven campaign.