Hannover, Germany / Vienna, Austria, August, 06th 2020: "We are doing the Early Access to learn, what the players want" explains Fabian Baumgarten, Producer at development studio NUKKLEAR, "and it became quite clear, that we wanted to totally overhaul our controls, add more single-player content and quality of life features."
Therefore, Update 3 will add the new single-player mission "Bank Job" to the campaign, where the player leads an assault of ground forces with his Comanche attack helicopter. Together with a whole IJTF Strike Force, the Comanche will witness a full offensive against the Kude Core's last stronghold in the middle of the desert.
Next to loads of new content like the continuation of the single-player campaign, developer NUKKLEAR took the time to take a deep look into the helicopter controls. Players can now choose between "Arcade" and "Simulation" controls, which play drastically different from another and will satisfy casual and experienced players alike.
Speaking of controls: For this update, NUKKLEAR and Thrustmaster teamed up to support the most important Thrustmaster HOTAS devices natively.
Additionally, the frequently requested 3rd-person mode has been added to the game.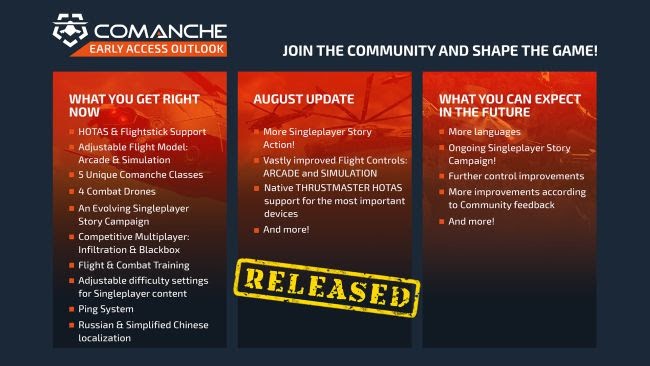 About Comanche
Comanche is a modern helicopter shooter sim set in the near future. You have the choice to either delve into the evolving single player and make a difference in a conflict of global proportions or compete with other Comanche players from all around the world in the explosive team-based multiplayer modes. Choose from an array of Comanche and drone configurations, and utilize their strengths to your tactical advantage. Experience a new era of thrilling dogfights and stealthy drone close-quarters action.
Features
The community wanted it, we listened: Singleplayer is here and will be expanded on a regular basis.
Two in one: Control the classic Comanche itself or the technically advanced versions of this legendary helicopter in heated dogfights, and step into its accompanying drone for close-quarter combat.
Infiltration: This mode combines helicopter combat and drone, your objective is to either defend or infiltrate a base where the attackers have to place an EMP, which the defenders will have to disarm.
Blackbox: Team Deathmatch with kill confirmation – when you shoot an enemy, collect his black box with your drone. Fast-paced multiplayer action. Coordinate with your team and find the fastest way to achieve the most takedowns.
Countless strategic opportunities: Pick one of many Comanche/Drone combinations armed with varied weapons and unique gadgets that compliments your playing style.
Shape the game: pick up Comanche in Early Access and participate in the development with your feedback and input!
Constant content updates: To expand, modify and improve the game. THQ Nordic and Nukklear will continuously provide new exciting content for Comanche.