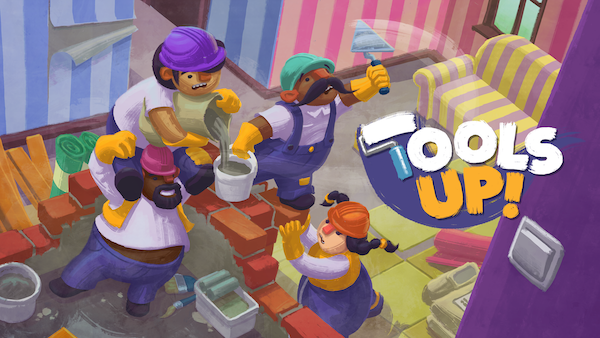 Renovations are coming before the holidays!
Krakow, Poland – November 19, 2019. Publisher All in! Games has revealed that Tools Up!, developed by The Knights of Unity, will launch on December 3 of this year. Assemble your team of up to four players and cooperate (or not) to really get those apartment renovations going on PC and consoles for $19.99. Grab the blueprints, some friends, and get to work!
Renovate like there's no tomorrow!
Gather your friends (or fellow reno enthusiasts) in this intensely fun couch co-op game about home renovation and work your way to the top of a skyscraper in need of some real TLC.
The owners of various apartments have left their homes in your hands. All you've got is a blueprint of how their place should look before they move back in. Cooperate with your friends to complete the task or make a mess trying!
Tools Up! is a local multiplayer game for up to four players. Work together against the clock and host a wild renovation party in your very own home!
Features:
• Work hard – paint walls, lay tiles and throw everything you need to other rooms.
• Play better together – join up to three players to move couches against the clock.
• Expect the unexpected – environmental elements spice up things. Have you ever renovated a building surrounded by lava?
• Lead the team – whoever holds the blueprint is in charge of the camera angle.
• Join in the fun – simple controls and a low entry level make Tools Up! a perfect party game for everyone.