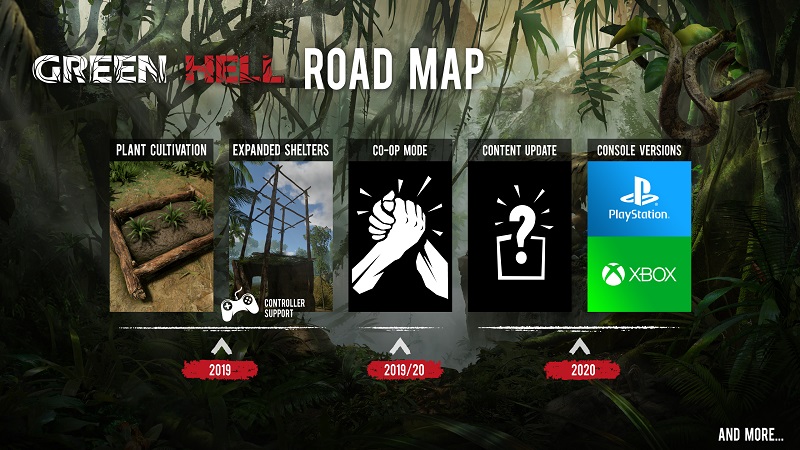 Co-op Mode and console releases highlight the 2020 roadmap for Green Hell
Warsaw, Poland – Oct. 2nd, 2019 — Launching into 1.0 only one month ago, Green Hell received praise for its unique take on the survival genre. The game's Story Mode, the highlight of the launch out of Early Access, took players on a journey deep into the depths of the Amazon where danger lurked at every turn in their quest to save their lost love, Mia. Today, developer Creepy Jar is happy to announce that they have even more planned for Green Hell in 2019 and into 2020 as they reveal the post-release roadmap.
Alongside updates for plant cultivation and expanded shelters, the Green Hell community will be ecstatic to learn that one of their most requested features is soon on the way. Co-op Mode will be making its way to the game in late 2019 or into next year. Creepy Jar is taking painstaking detail to make sure that this update is perfect, and will provide more updates as development furthers.
Even more exciting, console players will have their day in the jungle when Green Hell launches on both PlayStation 4 and Xbox One in 2020. More details on the way soon!
You can check out the roadmap image above, or see below for details on upcoming updates for Green Hell:
Plant Cultivation – Plant, grow and collect from your own cultivated gardens.
Expanded Shelters – Expand your camp shelter with additional floors.
Co-op Mode – Survive in the Amazon together with up to 4 players in our most requested feature, co-op mode.
Content Update – New playable content… it's a surprise!
Console Versions – Green Hell will be making its way to both Xbox One and PlayStation 4. Stay tuned for more details in the future!
Green Hell is now available on Steam at a list price of $24.99 USD
Key Features
Realistic Survival Simulator — Green Hell puts great focus on realism in both its world-building and gameplay. Everything that is crafted or built is necessary for survival and was consulted on with experts. The Amazon is not a typical forest; threats are literally crawling under your skin.
Psychological Thriller — You awake in the middle of the night, you hear the distant voice of your wife, Mia through the darkness. Through the radio her pleas for help ring in your ears. Will she be ok? Will you succumb to the dangers of this hostile environment before you can rescue her? The hardest battle you'll face is the fight against yourself, your weaknesses, and your fears in order to find Mia.
A Lushly Recreated Amazon Rainforest — Every effort has gone into recreating the lush world of the Amazon. An exotic and dangerous place, this jungle is filled with many hazards beyond predators including toxic plants, illnesses, and infections all waiting to bring the player to their demise.
Body Inspection — Dangers lurk around every corner, but they also live under your very skin. Paramount to your survival is checking your body for parasites, infections, and wounds. Take care of your body or you will face the consequences.