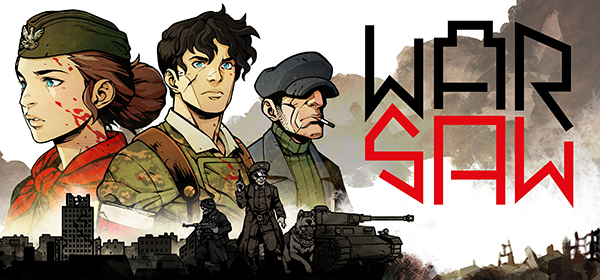 Tactical WWII RPG Launches on October 2nd for PC
Independent video game publisher Gaming Company and developer Pixelated Milk today reveal the launch trailer for WARSAW, a tactical, story-driven WWII RPG set during the titular Warsaw Uprising. The new trailer focuses on the intense gameplay and highlights the real people at the heart of this powerful moment in Polish history, featuring stunning, hand-drawn artwork and animation. WARSAW will launch for PC, via Steam on October 2nd – the 75th anniversary of the conflict's tragic conclusion.
WARSAW sees you lead the Polish underground resistance in their brave fight against the city's Nazi oppressors in 1944. You must recruit, develop and manage your fighters as you take them into battle in an immersive urban warfare experience directly inspired by real events. Encounter patrols, aid citizens and make tough decisions that will affect the resistance's fortunes permanently. In WARSAW, death is permanent, with fighters killed in battle being lost forever, their death's having an impact upon their loved ones and the resistance's overall morale.
Gaming Company producer Krzysztof Paplinski said,"with WARSAW, we wanted to create a game that is both culturally significant and great to play, and we hope that we've delivered that. We took great care with our story and mechanics to provide the best possible experience for players and to ensure we do our history justice."
WARSAW launches on October 2nd for PC with German, French and Russian localisation, in addition to Polish and English language options, and will arrive on consoles at a later date.