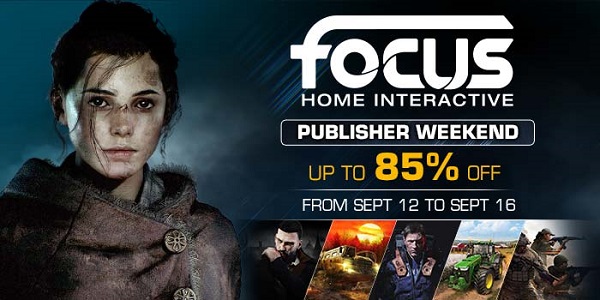 This year's Focus Home Interactive Publisher Weekend features discounts on recent releases and every one of the publisher's bestsellers. Huge deals are available across the entire Focus catalog, including A Plague Tale: Innocence, widely celebrated for its gorgeous visuals and gripping narrative, crafted by developers Asobo Studio. RPG fans can grab DONTNOD's Vampyr, lauded for its deep and impactful player choices, and occult investigation RPG Call of Cthulhu by Cyanide Studio. There's never been a better time to grab these narrative-driven experiences praised by journalists and players alike.
It's also your opportunity to delve into the cyberpunk, nanite-infested world of Deck 13's brutal action-RPG The Surge while awaiting the release of The Surge 2 on September 24. In addition, celebrate the release of epic RPG GreedFall earlier this week by picking up Spiders' previous games such as The Technomancer, Bound by Flame, and Mars: War Logs.
Meanwhile FPS-minded players have the opportunity to get their hands on Insurgency: Sandstorm, the intense modern tactical FPS by New World Interactive. With several massive updates under its belt, including a new map and mode added this week in the huge Frontline Update, and many more to come, this is the ideal time to join the controlled mayhem.
Rev your engines for Focus Home Interactive's fan favorite simulation games! GIANTS Software's Farming Simulator 19 lets you shed the city stress by managing your own modern farm. Enjoy great deals on the base game and all its DLCs. The future holds even more for this title, as pre-orders for the Platinum Expansion are now available! Experience incredible physics in Saber Interactive's MudRunner, the ultimate off-road simulator, with all its DLCs, including the American Wilds Expansion.
Focus Home Interactive and Games Workshop give fans of Warhammer and Warhammer 40,000 good reason to ready their weapons, with a host of deals. Command vast fleets in Tindalos Interactive's space RTS Battlefleet Gothic: Armada 2 and dominate the galaxy in the Chaos Campaign Expansion.
Grim war and fantasy Football await you in further titles such as Space Hulk: Tactics, Mordheim: City of the Damned, Blood Bowl 2 and Space Hulk: Deathwing – Enhanced Edition.
Details of the offers available here: https://store.steampowered.com/sale/focus_weekend
A Plague Tale: Innocence: 33% off
Battlefleet Gothic: Armada & DLCs: up to 75% off
Battlefleet Gothic: Armada 2 & DLCs: up to 50% off
Blood Bowl 2 & DLCs: up to 75% off
Call of Cthulhu: 50% off
Farming Simulator franchise: up to 60% off
Insurgency: Sandstorm: 33% off
Mordheim: City of the Damned & DLCs: up to 80% off
MudRunner & DLCs: up to 60% off
Space Hulk: Deathwing – Enhanced Edition: 75% off
Space Hulk: Tactics: 75% off
The Surge & DLCs: up to 75% off
The Technomancer: 75% off
Vampyr: 66% off