Over 3,000 backers made the crowdfunding effort quick and successful. Next step: Stretch goals!
Warsaw, Poland – October 6th, 2020— The never-ending freeze took over Kickstarter with lightning speed. Frostpunk: The Board Game – a tabletop adaptation of a best selling survival city-builder that is forged by Glass Cannon Unplugged with full support from 11 bit studios – became reality in under an hour!
It took exactly 54 minutes to reach the initial 200k Euro goal once the Kickstarter launched earlier today. In the upcoming days, additional backers will help to reach stretch goals that will add extra flavor to the experience. One of these goals is a one-of-a-kind companion app that allows distant players to enjoy multiple copies of the game together in a shared environment.
The Frostpunk: The Board Game Kickstarter campaign will end on Thursday, October 29th.
"In our wildest dreams we didn't think that it would happen that fast! Frostpunk is a well-known IP, and we can guarantee that the unplugged adaptation will live up to its name with gameplay focused on strategic decisions and grim narration. For us, the campaign launch is just the beginning of the road, but we couldn't be happier doing it while knowing we produce this game for such an amazing community. From the deepest depths of our hearts – thank you for such a wonderful reception of our game". Jakub Wiśniewski, CEO of Glass Cannon Unplugged.
Help to reach the stretch goals on Kickstarter: https://frostpunk.glasscannonunplugged.com/kickstarter
Frostpunk: The Board Game key features:
Different player roles ease the learning curve which allows newcomers to enjoy the game.
Innovative heating and generator cube tower mechanics with a custom-designed system of cube-catching and risk management.
A worker-placement mechanic where your meeples get sick and hungry and have ethics and social demands!
Narrative-driven Dusk card mechanics steer the society using Law and Technology and bear the consequences of in-game decisions.
A fascinating mix of snow-apocalypse and steampunk worlds to be discovered through expeditions deep into the Frostland.
A companion app that allows for shared playthrough between distant players.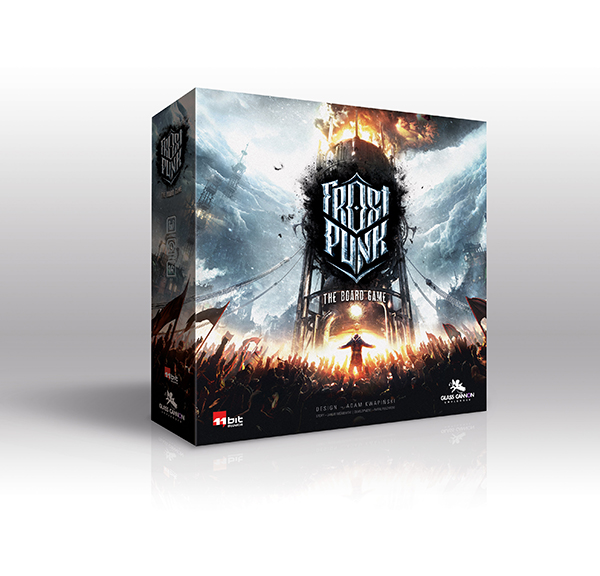 About Frostpunk
Frostpunk is the first society survival game. As the ruler of the last city on Earth, it is your duty to manage both its citizens and its infrastructure. What decisions will you make to ensure your society's survival? What will you do when pushed to breaking point? Who will you become in the process?