All aboard…
Melbourne, Australia, October 31, 2019 — Fellow Traveller and What Pumpkin Games wish everyone a Happy Halloween with the first reveal of Hiveswap Act 2! Discover key art, screenshots, and more on the new Hiveswap: Act 2 Steam page. Keep track of each detail and update by wishlisting the game on Steam and adding it to your Terminals Watch list.
The game is coming together as the team continues to implement beautifully animated assets! Take a look at one of the nearly finished scenes from our freshest build below.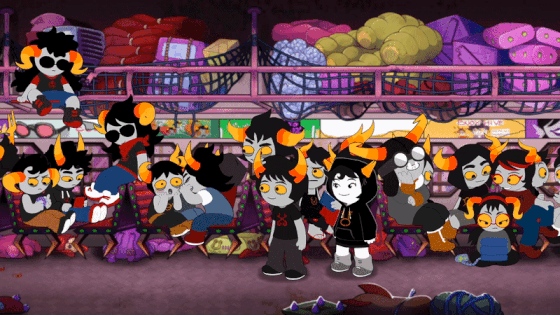 All fans of Hiveswap and Homestuck should check out Persterquest, the visual novel that reveals background and new details on your favorite characters. The Pesterquest adventure continues as we zap between Earth and Alternia! Meet Gamzee and Vriska in the newest volume, Volume 6. Collect this volume's emojis and wallpapers here!
All volumes of the 14 volume series are available through the Season Pass and now's your chance to make some new friends: Pesterquest is 10% off during the Halloween sale!