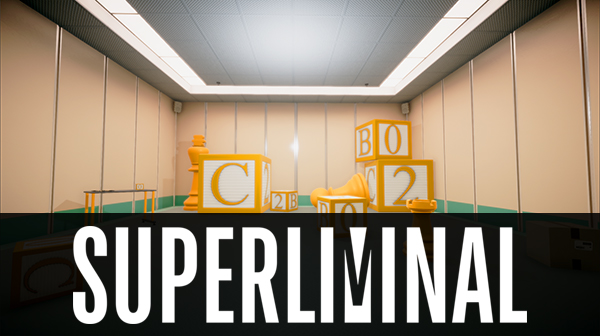 Perspective-bending puzzler from Pillow Castle Games is sure to be one of the most talked-about games this year.
In late August we announced that Superliminal would be hitting the Epic Games Store this year, and we're excited to finally formally open up key requests for the game. While we're still not ready to put a date on it, it's getting close!
A Bit of History
Superliminal has been in development for over half a decade at Pillow Castle Games, and I'm sure the team is just delighted to almost have it out the door. You may know it by its previous title, Museum of Simulation Technology; early demos of that game garnered a ton of hype and millions of views on YouTube, as prominent content creators like Jacksepticeye and Markiplier, as well as media outlets like Polygon had their minds twisted by the game's ingenious perspective-bending puzzles. Check out those links to see old videos, then get ready for the new hotness: there are a ton of game mechanics/puzzles that nobody's seen before, and which you'll only experience in the full game.
If you haven't yet, be sure to check out the newest trailer, which uses cheeky humour to highlights the countless ways players can move, change, and shift objects in order to solve puzzles. The trailer is the first glimpse at Superliminal's story, with the introduction of Dr. Glenn Pierce and his "SomnaSculpt Dream Therapy" program. Caught in a Lynchian dream state, players must find a way to escape as they discover that things are not always what they seem. I mean, I may be biased, as the trailer was produced by our own Evolve Originals team, but it does a great job of showing you how this game is going to absolutely mess with your head.