Dual Universe developer Novaquark updates their roadmap as they head toward the last Alpha milestone in January 2020!
Montreal, Canada – December 5, 2019 — Novaquark, developers of the upcoming sci-fi MMO 'Dual Universe', have released an updated roadmap to the public that highlights the next phases of their development cycle. Also released was an accompanying podcast in which the company's CEO Jean-Christophe Baillie and staff sit down to discuss the future of the game in more detail.
Starting with the upcoming Alpha 3 update, which is slated for a January 2020 release date, the roadmap highlights some of the new and updated features coming to Dual Universe in 2020 and 2021, as well as the key milestones in the game's development.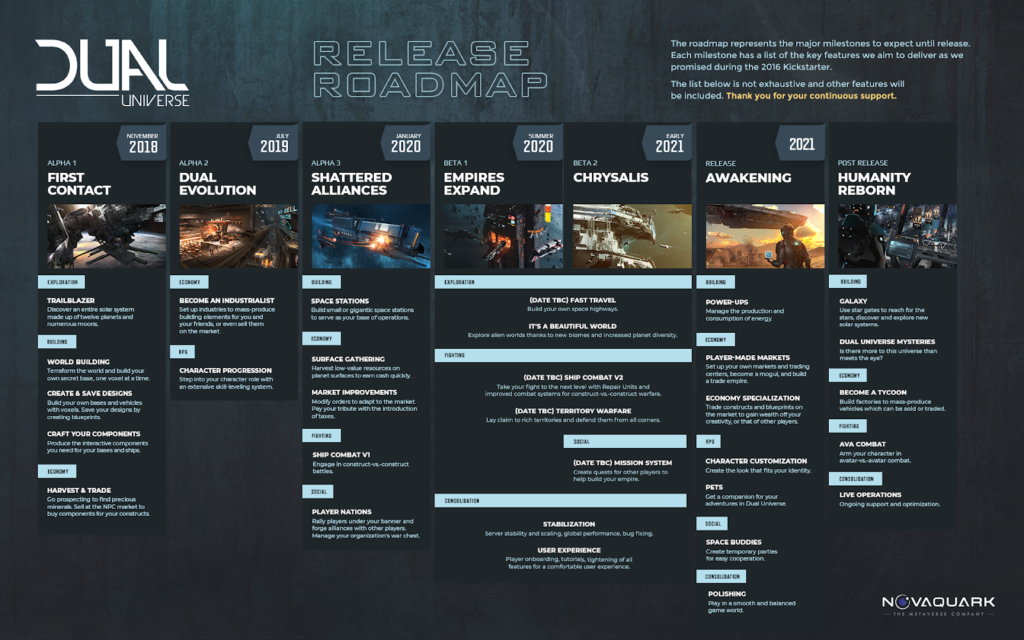 About Dual Universe
UNIVERSE (available in test version): The first fully editable universe made for players by players. The only limit is your imagination! Gather your friends and build on a truly epic scale, from ships, cities and space stations, to Lua scripted puzzles and interactive constructs.
MASSIVE (available in test version): Dual Universe is the first game where potentially millions of players can interact together simultaneously, inside the same giant universe. We call it the Continuous Single Shard Cluster (CSSC) technology. This proprietary technology means no multi-server player separation, instances or loading times, just one enormous, persistent universe.
EXPLORATION (partially available in test version): Explore & Discover new worlds with your friends, find rare resources and build the greatest place in the universe. Will you be a nomad treasure hunter, or a calculating profiteer?
ECONOMY (partially available in test version): Dual Universe will have the most realistic economy system ever made in a game. From weapons and tools, to spaceships and giant space stations, build and trade everything to everyone – at your price – on your own market.
WARFARE (work in progress): Fight for supremacy, resource control or geostrategic advantage, as you join with fellow players and create your own defense systems, build warships, cities and space stations. Will you defend yourself or lay waste to your enemies?
POLITICS (work in progress): Be a lone wolf or choose an organization or build your own, hire new players, fight other alliances, cut deals with them or rule your own part of the Universe with this completely open political landscape, full of emergent gameplay opportunities.