Announcing the Release Dates for Xbox One and PS4 and the Xbox One Pre-Order campaign
Barcelona, Spain. June 19, 2019: Defending your settlements from undead hordes gets ever closeras BlitWorks and Numantian Games announce the pre-order campaign for Xbox One and the release dates for both consoles for They Are Billions!
The pre-order campaign for Xbox One starts globally on Friday June 21 and will run for 2 weeks until the game launches for Xbox One on July 5! For PlayStation 4 gamers, They Are Billions will launch on PS4 on July 9!
The BlitWorks team has been working hard to get They Are Billions ready for console fans. They are confidant that both Xbox One and PlayStation 4 players will love facing off against the undead via the game's survival mode, being able to pause the game at any time to plan the best strategy, having the option to play with controller or keyboard & mouse and much, much more!
It is almost time to order your copy and face off against They Are Billions. Will you survive?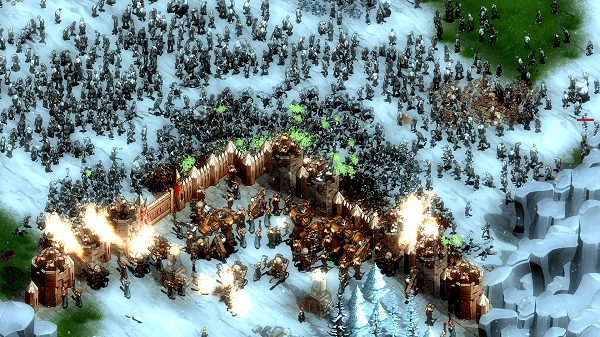 About They Are Billions
They Are Billions is the addictive RTS set on a post-apocalyptic world where players face an innumerable foe. Players must build colonies strong enough to withstand the billions of infected zombies that roam the world seeking to annihilate the last surviving humans.
To survive, players plan strategies, place buildings and manage resources to have any chance against the billions of zombies. A key factor in survival is the use and training of the player's armies and contracting mercenaries. Using your forces and defenses wisely is the only way to survive against the billions of infected out to get you.
Features:
Survival Strategy Game – The aim of the game is to build a successful colony and survive for a specific period of time against billions of zombie enemies. Build walls, gates, towers, and structures to protect yourself. Train your army and contract the best mercenaries to protect the colony. Management of your resources and forces is the key to survival!
Real Time with Pause – While They Are Millions is a Real Time Strategy game, It comes with the ability for players to pause the game at any time. With the game paused, players can focus on making the best strategic decisions, giving them a layer of control missing from most RTS games.
Randomly Generated Maps – Every game presents new challenges for the player as each new game creates a random world generated with its own events, weather, geography, and infected population.
Thousands of Units on Screen – They Are Billions brings massive numbers of units to the game screen, up to 20,000 units playing in real time! Some are on your side, but be prepared to face the biggest swarms of infected you've ever seen.
Mouse and Keyboard Support – They Are Billions gives players the choice of playing with a keyboard & mouse or a controller, allowing players to experience the game how they choose.
Weekly Challenge – Weekly Challenges will be offered where participating players must play the same random map. The best scores are published on a leaderboard to allow for bragging rights and friendly rivalry among players.
They are Billions is currently available for PC gamers via Steam. It launches on Xbox One July 5, 2019 and on PlayStation 4 on July 9, 2019 for $24.99 USD and 24.99€.