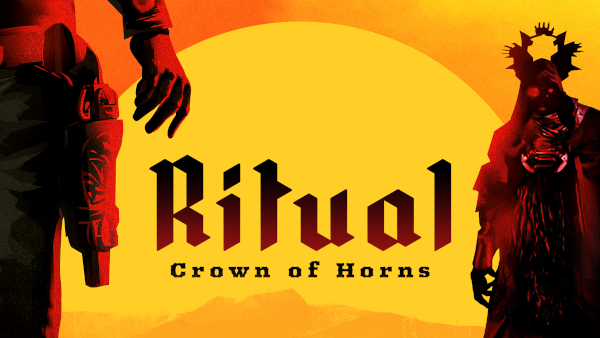 Pack your hands full of iron and hellfire and set out on a journey to defend the west.
Krakow, Poland – October 31st – Feardemic Games are proud to announce that after a successful round of autopsy and embalming in the Early Access morgue, Ritual: Crown of Horns is rising from its grave on November 7th 2019.
Thanks to the feedback and testing done by those who picked up the game early, Ritual has been honed to a mirror sheen, with its challenging and thoughtful wildly weird western action ready to put players to the test. Stand your ground and defend the witch who holds the leash to your mortal coil as she conducts rituals all across a 19th century United States, all to subvert and defeat a shadowy cabal that has taken control of the country and put you in the ground in the first place.
Ritual: Crown of Horns will be released on both the Nintendo Switch and on Windows via Steam (where it's still available in Early Access) for $19.99 USD on November 7th 2019; it'll also be available for pre-sale in Europe on the Nintendo Switch beginning November 1st at 15:00 CET
About Ritual: Crown of Horns
Ritual: Crown of Horns is a slaughterhouse: a fast-paced action game set in an alternate Wild West, a demonic version of a hellish frontier. This arcade-inspired title unravels a tale about an unlikely duo: a bounty hunter who comes back from beyond the grave, yearning to exact revenge on his killers and a witch who aids him with a series of powerful rituals to further her own agenda.
Push back hordes of enemies, while the witch performs her ritual. Work a varied arsenal of firearms to your advantage: mindfully swapping between weapons and spells. Unlock new tools and powerful items which boost your gunslingers stats and changes their look. Travel throughout the Weird West picking your missions and planning future unlocks to finally exact your revenge!
Ritual: Crown of Horns is a skill based game, where split-second decisions and planning on the go are more powerful than button mashing and throwing yourself mindlessly at enemies.
Features:
Unique auto-aiming system
A satisfying arsenal at your disposal such as shotguns, six-shooters, rifles, crossbows, and a few surprises that are a little less era-appropriate.
Outrageous enemies to fight including brainwashed cultists, supernatural legendary creatures, bizarre murderous contraptions
Creative spells and power-ups that can violently alter the way you approach each combat encounter.
Unique Gothic Horror meets Weird Western artstyle.