August 14, 2019 – FREE WEEKEND UPDATE – Between the 8th – 11th of August, Vigor held a Free Weekend on Xbox One which surpassed all expectations! Over 140,000 new Outlanders attended post-war Norway's battle for survival, with over 700,000 players involved since the Game Preview began. Here is a summary of the Vigorous Free Weekend: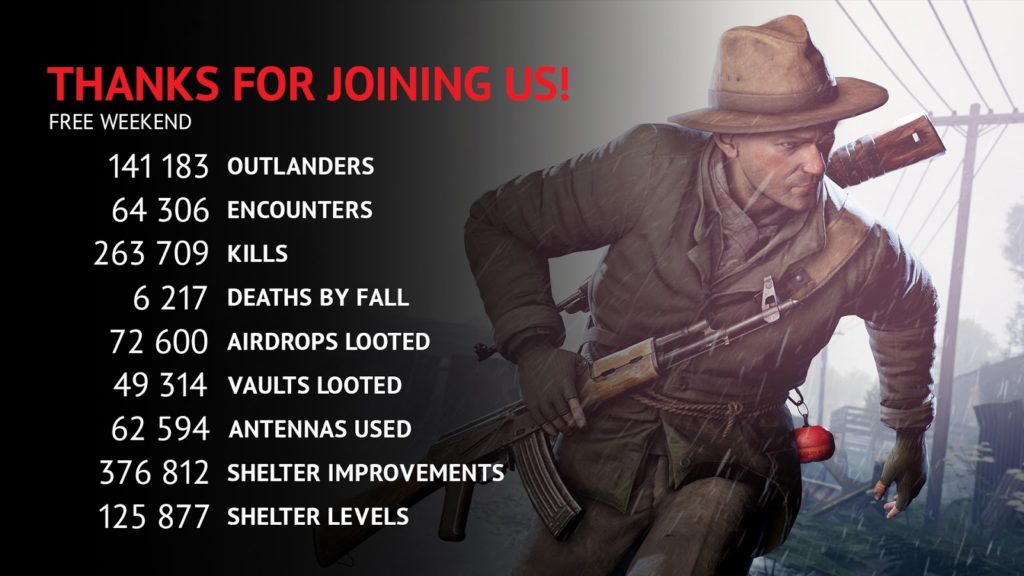 Bohemia Interactive is happy to announce that they will be attending Gamescom this year as a part of the Inside Xbox Show at the Gloria Theatre in Cologne! 
Attendees can also find them in hall 10.1, stand D–079 in the public area to try the Vigor demo. As always, there will be new exclusives and merch in addition to the attendance of many Bohemia Developers on-site to talk to fans and press alike.
"We are excited to see every Outlander there! We owe a lot to our community and that is why we want to meet as many of you as possible. If you are attending Gamescom, make sure to stop by. Vigor will be a part of the Inside Xbox Show at Gloria Theatre in Cologne! Because Vigor is an Xbox exclusive, we are excited to partake in this breathtaking event either in-person or via the video stream. We believe there are multiple reasons to tune in…" says Dominik Jícha, Marketing Manager for Vigor.

ABOUT VIGOR
The nuclear war is over. Europe is devastated and Norway has become the last stand.
You start as a nameless Outlander, but who will you become? Now is not the time for uncertainty as your fate depends on your actions going forward — Shoot your way out, or run and hide. Loot, gather resources, take risks, build your shelter, and stockpile vital equipment.
Humanity has fallen… You shall rise.
Vigor is an upcoming free-to-play, third-person shoot-and-loot that sees players gather precious resources and equipment, build and upgrade their shelter, and develop sharp combat skills to outlast their fellow Outlanders.
KEY FEATURES
SURVIVE encounters for 8–12 players.
LOOT precious resources and valuable items.
BUILD your shelter and vital equipment.
BECOME a courageous Outlander in a post-war Norway setting.
Vigor is an Xbox Exclusive – Founders keys will be available until launch for press and influencers